By latest count, there are approximately 1,900 distilleries now in operation across the United States.
Entering into this dense landscape is The Vale Fox, a craft producer from New York's scenic and historic Hudson Valley region. With their debut release, Tod & Vixen's Dry Gin 1651, the upstart is eager to separate themselves from the pack. Retailing at $39.99 this bottle was a collaborative effort between Master Distiller Roselyn Thomson (formerly of John Dewar & Sons) and three of the world's top bartenders—Jeffrey Morgenthaler, Leo Robitschek and Gary Regan. According to its makers, the resulting liquid is a combination of British sensibility and American mischief.
Distillery founder Eral Gokgol-Kline left behind a lucrative career in finance to pursue what he thought was merely a passion project. It turns out he was also following a familial legacy. "Through some genealogical research, I learned that in 1651, my great, great Dutch grandfather founded a New York distillery," says the Turkish-born entrepreneur. "I hope we're making his spirit proud, though you have to wonder what he would have thought of the Brit we have in here refining Old World distillation techniques with a newly scientific approach."
Inception involved, in part, working backwards from the cocktail to arrive at the spirit. During a lengthy residency in London, Gokgol-Kline developed a passion for mixology. It was there that he learned that the large majority of the world's gin is enjoyed in cocktail form. The realization informed how he would tackle his own take on the enduring spirit. "We thought who better to help our master distiller design an exceptional cocktail gin than some of the world's top bartenders?"
Around the beginning of this year, the bartenders in question were entrusted with four samples from Thomson. They were tasked with working them into classic arrangements and providing feedback to the master distiller so that she could then further refine the recipe. It was an exhaustive trial-and-error exercise spanning several months.
Ultimately, the tasting panel jettisoned the softer, more floral spirits in favor of something sharper that could stand out against sturdy modifiers. The final product incorporates the usual suspects—gin's so-called 'Holy Trinity' of juniper, coriander and angelica root—along with unexpected additives such as red rooibos tea and Makrut lime. It is replete with pine and even subtle barrel notes, although the liquid spends no time aging in wood.
"We are pushing the boundaries of traditional dry gin through innovative distillation techniques including non-chill filtering," adds Gokgol-Kline. "It leaves behind many of the botanical flavor compounds, giving it character and resulting in a vibrant, full-bodied gin. I recommend trying it with an orange slice instead of traditional lemon or lime."
Tod & Vixen's hits shelves this week at select New York retailers, accompanied by a one-of-a-kind graphic novel. It paints a seriocomic tale of the two grey foxes—who lend the spirit its name—on a quest to protect their homeland from environmental devastation.
But gin is just the opening chapter for Vale Fox, as the distillery already has an American single malt resting in barrels on its sprawling 120-acre plot in upstate New York. And Gokgol-Kline has invested heavily to imbue his brand with a lasting sense of place and purpose. Adjoining the production facility is a 2,500 square foot welcome center and tasting room offering tours, tastings, and unimpeded views of the estate—which now doubles as something of a wildlife preserve.
"We have worked hard as stewards, taking time to protect habitat onsite for the endangered Blandings turtle and Indiana bat," explains Gokgol-Kline, a dedicated environmentalist, who runs his operation on geothermal energy. "We have a herd of 50 deer now calling our land home, turkeys, a bobcat, lots of birds of prey, and even a shy little fox that runs around in the mornings."
The exuberance of the local fauna will soon be matched by beasts of a different breed: hordes of spirit connoisseurs who can now celebrate a craft operation quite unlike any other.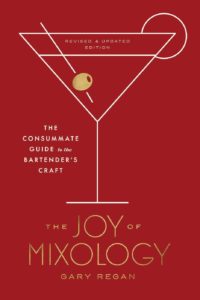 On May 13, 1806, the Balance and Columbian Repository of Hudson, New York, answered a reader's query as to the nature of a cocktail: "Cocktail is a stimulating liquor, composed of spirits of any kind, sugar, water, and bitters — it is vulgarly called a bittered sling." The cocktail had been born, it had been defined, and yet it couldn't have been very well known by the general populace, or the newspaper wouldn't have considered it a fit topic for elucidation.
Where does the word cocktail come from? There are many answers to that question, and none is really satisfactory. One particular favorite story of mine, though, comes from The Booze Reader: A Soggy Saga of a Man in His Cups, by George Bishop: "The word itself stems from the English cock-tail which, in the middle 1800s, referred to a woman of easy virtue who was considered desirable but impure. The word was imported by expatriate Englishmen and applied derogatorily to the newly acquired American habit of bastardizing good British Gin with foreign matter, including ice. The disappearance of the hyphen coincided with the general acceptance of the word and its re-exportation back to England in its present meaning." Of course, this can't be true since the word was applied to a drink before the middle 1800s, but it's entertaining nonetheless, and the definition of "desirable but impure" fits cocktails to a tee.
A delightful story, published in 1936 in the Bartender, a British publication, details how English sailors of "many years ago" were served mixed drinks in a Mexican tavern. The drinks were stirred with "the fine, slender and smooth root of a plant which owing to its shape was called Cola de Gallo, which in English means 'Cock's tail.'" The story goes on to say that the sailors made the name popular in England, and from there the word made its way to America.
Another Mexican tale about the etymology of cocktail — again, dated "many years ago" — concerns Xoc-tl (transliterated as Xochitl and Coctel in different accounts), the daughter of a Mexican king, who served drinks to visiting American officers. The Americans honored her by calling the drinks cocktails—the closest they could come to pronouncing her name. And one more south-of-the-border explanation for the word can be found in Made in America, by Bill Bryson, who explains that in the Krio language, spoken in Sierra Leone, a scorpion is called a kaktel. Could it be that the sting in the cocktail is related to the sting in the scorpion's tail? It's doubtful at best.
One of the most popular tales told about the first drinks known as cocktails concerns a tavern keeper by the name of Betsy Flanagan, who in 1779 served French soldiers drinks garnished with feathers she had plucked from a neighbor's roosters. The soldiers toasted her by shouting, "Vive le cocktail!" William Grimes, however, points out in his book Straight Up or On the Rocks: The Story of the American Cocktail that Flanagan was a fictional character who appeared in The Spy, by James Fenimore Cooper. He also notes that the book "relied on oral testimony of Revolutionary War veterans," so although it's possible that the tale has some merit, it's a very unsatisfactory explanation.
A fairly plausible narrative on this subject can be found in Famous New Orleans Drinks & How to Mix 'em, by Stanley Clisby Arthur, first published in 1937. Arthur tells the story of Antoine Amedie Peychaud, a French refugee from San Domingo who settled in New Orleans in 1793. Peychaud was an apothecary who opened his own business, where, among other things, he made his own bitters, Peychaud's, a concoction still available today. He created a stomach remedy by mixing his bitters with brandy in an eggcup—a vessel known to him in his native tongue as a coquetier. Presumably not all Peychaud's customers spoke French, and it's quite possible that the word, pronounced coh-KET-yay, could have been corrupted into cocktail. However, according to the Sazerac Company, the present-day producers of Peychaud's bitters, the apothecary didn't open until 1838, so there's yet another explanation that doesn't work.
Another theory has it that in England, horses of mixed blood had their tails docked to signify their lack of breeding, and were known as "cocktailed" horses, but since I first wrote that, the term has been clarified. David Wondrich, cocktail historian extraordinaire, has concluded that the word's origins did indeed involve horses and their tails, but with a difference: "cocktail," he found, was a bit of ginger or cayenne pepper that crooked horse dealers would put into tired old horses' bums to make them cock their tails up and act a little more lively than usual.
So, there you have it… five possible explanations of the origin of the word cocktail.
I don't know about you but I'm going with the last one, but I much prefer "down the hatch" than "bottoms up."